Nylon Compression Socks
Support nylon stockings are thin, discreet and comfortable against the skin, while the nylon compression stockings give your legs and feet the support that a classic compression sock gives. They are perfect at parties and when it is too hot with other materials. Nylon compression stockings can be used for work and everyday life as they look like regular socks.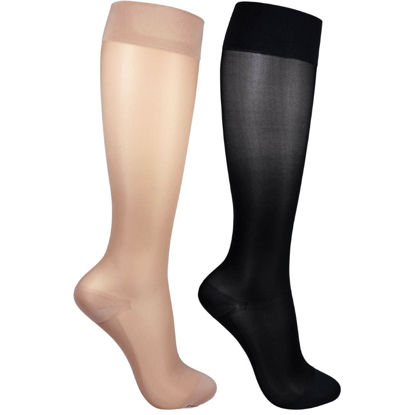 The compression socks complies with Compression Class 1 and has a pressure of 18-22 mmHg. 140 DEN Nylon.

The three-grained compression zones of the socks are constructed according to the following model. Full compression in zone 3 closest to the ankle and with decreasing pressure in zone 2 above the ankle and with a soft transformation to the top in Zone 1.

Size guide
To choose the right size, use the smallest circumference of the ankle and the largest circumference of the calf.
Minimal ankle measurements (cm), Calf's wideest width (cm), Suitable shoe size, Size

17-20, 27-33, 34-36, Small
19-22, 29-37, 37-39, Medium
20-24, 33-40, 40-42, Large
22-26, 36-42, 43-45, XL
24-28, 41-47, 46-48, XXL

Developed in accordance with Swedish Standard SS 872400: 2012, which specifies the requirements and testing methods for the manufacture of medical compression stockings.

The socks have been tested for allergies, irritation and sensitization according to ISO 10993-5: 2009 and ISO 10993-10: 2010. Wear Tests are done on IVF in Mölndal according to EN 13770-2002, and laundry tests according to EN ISO 6330: 2012. They are also Öko-Tex 100 certified.