Thigh High, Long Compression Socks
Thigh high compression socks are used primarily by those who need support over the knee but do not want a pantyhose. Long Compression Socks or so-called stay-ups helps to reduce varicose veins in the back of the knee where the usual knee socks are not enough.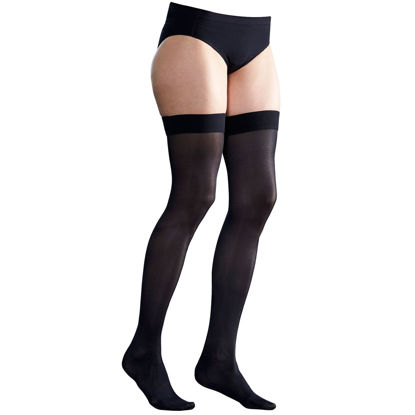 Thigh high support socks with 18-22 mmHg compression class 1. Long Stay Up that goes up above your thigh. Provides compression effect over the knee and prevent varicose veins. The compression socks are made of 140 DEN Nylon and have a wide silicone edge at the top to hold in place.

The three-grained compression zones of the socks are constructed according to the following model. Full compression in zone 3 closest to the ankle and with decreasing pressure in zone 2 above the ankle and with a soft transformation to the top in Zone 1.

Size guide
To choose the right size, use the smallest circumference of the ankle and the largest circumference of the calf.
Minimal ankle measurements (cm), Calf's wideest width (cm), Size

17-20, 27-33, Small
19-22, 29-37, Medium
20-24, 33-40, Large
22-26, 36-42, XL

Developed in accordance with Swedish Standard SS 872400: 2012, which specifies the requirements and testing methods for the manufacture of medical compression stockings.

The socks have been tested for allergies, irritation and sensitization according to ISO 10993-5: 2009 and ISO 10993-10: 2010. Wear Tests are done on IVF in Mölndal according to EN 13770-2002, and laundry tests according to EN ISO 6330: 2012. They are also Öko-Tex 100 certified.